Other Livestock Nutrition
Our nutritionists and field consultants work closely together to ensure livestock have all the benefits of a balanced diet, to maximize customers' productivity and profitability. We do this by understanding the nutrient requirements of each animal. Our nutritional programs include feed for: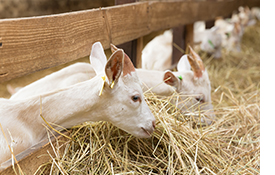 Ritchie-Smith Feeds leverages in-depth ingredient analyses from our in-house lab as well as externally accredited laboratories to monitor our feed product quality. The feed products are then evaluated to verify the feed is manufactured precisely to our specifications.
To help maintain industry best practices, our nutritional experts work with technical resources at genetics companies, research universities, feed ingredient supply companies and veterinarians. Also, to promote continuous improvement, we regularly conduct experiments and field trials to evaluate feed additives and formulation strategies.
Benefit from Our Advanced Nutrition Programs
To discuss how we can help you maximize your livestock's health, nutrition and performance, contact us.